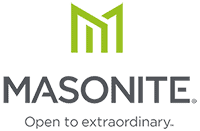 The brand that builders, remodelers and consumers choose when creating homes of distinction. Continually creating new and innovative products that will make any home more beautiful, more valuable and more enjoyable.
Moulded doors have major advantage of appearance i.e aesthetic look.
Environmental Friendly: Moulded doors have green advantage as they consume less wood thus conserve forest.
Moulded doors have densified 3.00 mm thick wood fiber (DEF) plates, compared to core (2mm) and face (1mm) venner used in Flush Doors, making them more durable and long lasting.
Density of Masonite DWF plate is around 1000 kg/m3 COMPARED TO 550 kg/m3 density of veneer wood thus provides double strength.
Smooth surface provide better glue holding capacity . Hence , longer life and durability.
Masonite doors are fungus resistant.
Masonite doors are manufactured with year of R&D inputs using standardized raw materials
This is a water-resistant Prefinished Laminated Door.
The Phenolic Glue used for bonding this door is manufactured in house for superior quality and durability. 
 Choose from our wide selection of product options.
The attractive appearance of a traditional wood faced flush door remains a popular and practical choice.
Veneered flush doors have high-quality natural timber veneers, laid over and concealing the timber edge lipping.
A wide selection of veneer range is available to suit every style at home.
Veneered flush doors create a coordinated wood ambiance.
"Great artists need great clients."
― I. M. Pei
"SM Corporation is the best when it comes to Masonite doors and panels. Wide product range, impressive designs and professional and helpful staff. Will always recommend."
"Tied up with SM Corporation 3 years back and I can say that this relationship will continue forever. Nice collection of panels and doors, impressive quality. Loved it!"
"SM Corporation helped me choose the perfect doors for my villa and farm. Really impressed with the amazing quality and variety to choose from. Thank You"
Let's start a new project.